Restaurant
Fresh and Tasty..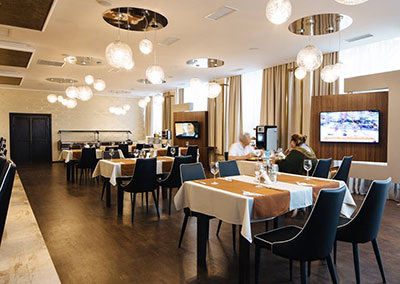 L
ike new every morning. Of course, a belief made ​​easier by the flavor and energy intake of refined and nourishing menu.

True to a tradition of hospitality, we imposed Phoenix restaurant not only halts the map are passing through Arad, but also a map for use by citizens of Arad eager to feel good, eating well.

Whether you choose to serve dishes of traditional Romanian cuisine or Intenational, our menu is perfectly designed to satisfy any appetite. We invite you to start a great challenge to our team of chefs ordering any dish you want to serve, even if it's not on the menu!

Featuring a generous hall with 70 seats, opening to an inviting terrace, Phoenix restaurant may be the perfect host for family or corporate events.
Our Menu
Daily Menu:
Green Beans Soup
Shepherd's Dream with baked potatoes
Dulcineea
Meet you here!